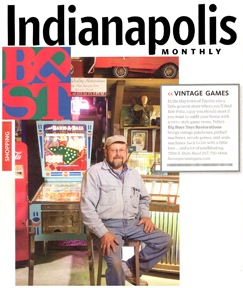 If you are seeking someone to repair or restore your classic jukebox, pinball, coke machine, bowler, brass cash register, slot machine, arcade game or other game room collectable, you've come to the right place! I'm pleased to have been honored by Indianapolis Monthly Magazine for the best in restored vintage games, jukeboxes, soda machines and other game room collectables. BIG BOYS TOYS RESTORATIONS is the name of my shop, and I love bringing classic machines back to life again, whether it be through restoration or repair.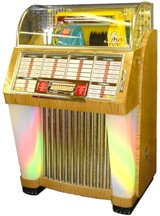 I specialize in the complete, professional restoration and repair of vintage gameroom items, particularly tube-type jukeboxes, electro-mechanical pinball and arcade games, vintage Coke and soda machines, and other collectibles including slot machines, candy and cigarette machines, penny scales, cash registers, and more. I like to limit my work to pre-1975 vintage items, with a particular focus on items from the 50's or earlier. If it's mechanical, electro-mechanical or uses tubes, and you are looking for a quality restoration second to none, I am your man. A perfectionist at heart, my focus is to provide you with a restoration that is as good or better than the day it came from the factory at a reasonable price.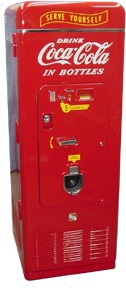 With over 40 years of experience and the proper tools and equipment, I can perform every aspect of restoration in my shops. I have specialized shops for electronic repairs, sandblasting, metal fabrication, painting and refinishing. I even do small part plating in house. Don't be taken in by folks who claim to do "restorations" that are often only a repaint and a few repairs, leaving unresolved problems that will cost you later. My restorations involve a complete teardown, all necessary stripping, sandblasting, welding, metal fabrication and repair, any electrical, mechanical or electronic repair, expert body and refinishing work, plating and polishing, hand painting and lettering, and complete re-assembly and detailing. The entire process is documented with a complete pictorial record which is provided upon completion of your project. You can also receive regular updates by email. When your project is done, I guarantee it will be first class, representing an investment that will only increase in value while providing you years of pleasure. (Scroll down to see a few recent restorations, and click Restoration Examples to see the restoration process on a Seeburg 100C jukebox and a Cavalier Coke machine.)

I also have a warehouse of cool unrestored items for sale that you can choose to have restored for you. I have classic jukeboxes, pinball machines, bowling machines, coke machines, popcorn machines, penny scales, cash registers, visible gas pumps and everything in between. Stop by and I will give you a tour. Whether you are in the market for a particular item or not, it is fun to just see some of this collectable stuff from the past.

If you go to the twice-yearly Chicagoland Show, I would be happy to pick up your project at one show, and return your completed restoration to the next show, at no charge.

I can be reached anytime at (317) 730-0018 or by e-mail at bobpeltz@homespunantiques.com . My shop is located at 4681 S. 200 E., Lebanon, IN. 46052. I am just northwest of Indianapolis, IN and just south of Lebanon. Only a few miles from Interstate 65.

I look forward to hearing from you.

Sincerely,

Bob Peltz, Proprietor

Here are some recent restoration projects: